Benefits of Purchasing a Low-Mileage Used Car
Posted Thursday, Oct 26, 2023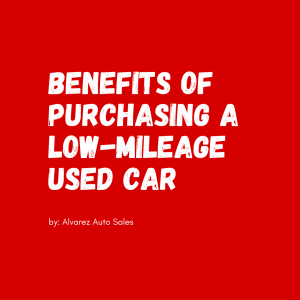 Used car finance can be tricky when unaware of the market's status. Many used car dealerships offer pre-owned vehicles to buyers. However, only a few have quality used cars that pay off well in the long run. Various factors come into play when deciding on a used vehicle, from its condition to market value. Many buyers ask if buying a used car with low mileage is a good idea. If you are searching for the same answer, we have covered the top advantages of low-mileage used cars to help you out.
Why Should You Buy Used Cars With Low Mileage?
When planning for used car finance, an important factor you must consider is the car's mileage. It speaks about the status of performance parts, tires, fluids, and other factors, making the buying decision relatively easy. Here are the pros of buying low-mileage used cars.
Lower Market Depreciation
The biggest advantage of buying a used car with low mileage is lower depreciation. When you buy a new car, its value starts to depreciate with each year, making it less worthy in the market. Since you pay high costs for a new purchase, selling your new car may not get you a profitable deal. On the other hand, used cars with low mileage have already passed that barrier.
You can buy them at reasonable prices and sell them later without bearing much impact on your total spending. If your goal is to get a good value for your car (when selling it), buying a used car with low mileage can be a viable option.
Exploring and comparing multiple cars and dealerships when aiming for a low-mileage car can help you make an informed selection.
Typically, cars with lower mileage have a good maintenance status. Lower mileage means lesser usage. It indicates that the car might have fewer maintenance issues. If you are lucky, you may need no upfront maintenance at all. Low mileage also indicates that the vehicle is less likely to have been neglected by the previous owner.
When buying quality used cars, some buyers are hesitant to make a decision based on their doubt of vehicle negligence. If a vehicle stays undriven for extended periods, it is more likely to have performance issues despite being driven less.
We recommend taking the low-mileage cars to a used car dealership for a quick spin to determine if their performance does justice to their mileage. This can help you make an informed choice.
Extended Warranty Coverage
Finding used vehicles with an existing warranty can be challenging. Firstly, they are fewer in number in most dealerships. Secondly, they can be quite costly based on their warranty status. While true, dealerships have low-mileage used cars with extended warranty coverage. Such vehicles can be an ideal investment when aiming for peace of mind.
Even if the car requires upfront repairs, you can claim the warranty and get the car fixed without spending high amounts. It can be a great option for budget-conscious buyers. Plus, you can get decent value for your vehicle when aiming to sell it later.
Before you lock your eyes on low-mileage vehicles with extended warranties, make sure that the warranty is valid and applies to upfront repairs. If the car requires maintenance that isn't covered in the warranty, you may end up paying more than the car's value.
Used car finance is easy, but getting reliable used vehicles is a big challenge. When stepping into the used vehicle market, you may only find a few options that can meet your reliability goals. This issue can be resolved by focusing on low-mileage used cars. Such cars can be trustworthy in terms of road performance, part quality, and long travel.
When you get a used vehicle with a high mileage, it may require frequent maintenance and may not be a reliable option for long-distance travel. You might not want your car to break down in the middle of the road when heading to work or other locations.
The reliability factor is one of the most crucial advantages of buying a used car with low mileage. While true, do not forget to take a test drive and get the vehicle inspected before buying it. Some used car dealers may trick you into buying a faulty vehicle under the attractive appeal of low mileage.
If you like to switch vehicles every few years, buying cars with low mileage can be an ideal fit for you. Such vehicles can be easy to sell and offer a decent resale value. A good rule is to buy a car with lower mileage and sell it after a year or two to get a good price. This way, you can save significant amounts for your next purchase.
Buying used cars with low mileage may also be a good fit for you if you drive only a few times through the week. With such driving habits, you can prolong your next purchase by keeping the car longer.
We recommend maintaining a transparent maintenance and mileage history of your vehicle from the date of purchasing it. Such details can help you make a better sale down the road, giving your buyers more confidence in the vehicle.
Environmental friendliness is the top concern of many states across the country. With more eco-friendly vehicles entering the market, vehicle owners prefer cars with cleaner engines. If you aim for such goals, buying a low-mileage used car can help you.
Low-mileage vehicles are least likely to have engine and smoke problems. You can contribute to a healthy environment in the neighborhood.
Moreover, you can keep low-mileage vehicles for longer, unlike high-mileage cars with persisting smoke problems.
Final Thoughts
The above factors highlight the top advantages of buying a used car with low mileage. If you are looking for used car finance that meets your car-buying goals, Alvarez Auto Sales, LLC, can fit your needs. Feel free to explore our large inventory of used cars to make a quick selection and get started with the finance process.